Bienvenue à Werneths Landgasthof - votre hôtel
à Rheinhausen près d'Europa-Park à Rust
Vous trouverez certainement ce que vous recherchez. De la chambre simple à l'appartement familial, notre maison vous offre toute possibilité pour un séjour non seulement reposant mais aussi riche en événements. Par ailleurs, nous avons réservé un parking, directement à la sortie de l'hôtel, à notre clientèle.
Dans notre arrière-jardin, vous aurez tout loisir de vous remettre des nombreuses impressions vécues durant la journée. 
En outre, une aire de jeu pour enfants, récemment mise en place, souligne l'atmosphère familiale à laquelle nous accordons une grande importance et que vous rencontrez dans toute la maison.
CONTACT
Johannes Werneth
Hauptstr. 39
79365 Rheinhausen
Notre HÔTEL
Nos 25 chambres disposent toutes d'une douche, WC, Wi-Fi et téléviseur avec satellite.
L'appartement 3-pièces est en aussi équipé d'un balcon, où vous pourrez profiter des belles soirées d'été.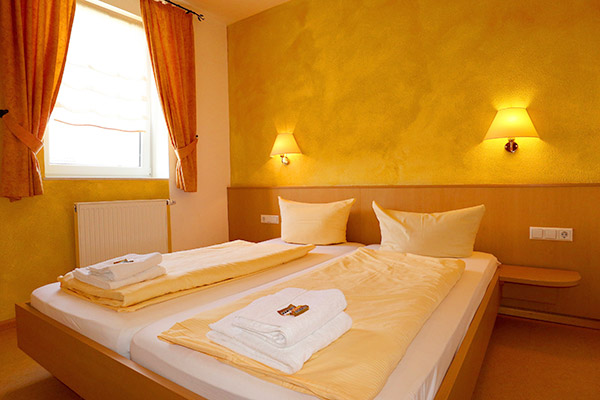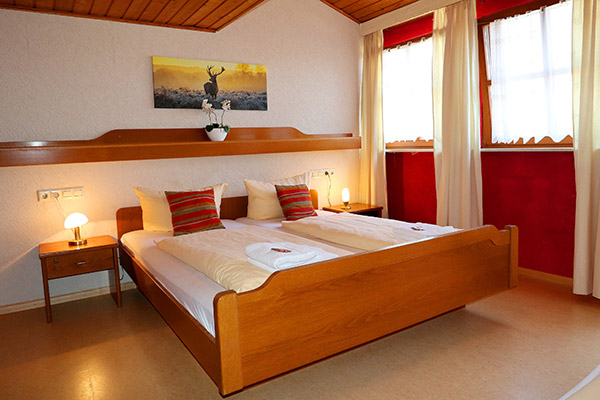 Notre MAISON D'HÔTES
Notre maison d'hôtes est située à environ 350m de l'hôtel dans une rue latérale très calme.
Les chambres sont équipées d'une télévision satellite et d'une salle de bain (en partie commune) avec douche et toilettes.
Prix
| Rates including breakfast buffet | per person from | per room from |
| --- | --- | --- |
| Single Room Kat. A | 64,00 € | |
| Single Room Kat. B | 64,00 € | |
| Double Room Kat. A | 47,00 € | 94,00 € |
| Double Room Kat. B | 48,00 € | 96,00 € |
| 3-Bed Room Kat. A | 42,33 € | 127,00 € |
| 3-Bed Room Kat. B | 42,33 € | 127,00 € |
| 4-Bed Room | 39,75 € | 159,00 € |
| 5-Bed Room | 35,00 € | 175,00 € |
3-Rooms Apartment

Please note in your booking that
only 1 apartment for 7-10 people is available!

Rates including breakfast buffet

per person from

per room from

7 Persons
47,86 €
335,00 €
8 Persons
43,75 €
350,00 €
9 Persons
41,76 €
375,00 €
10 Persons
38,00 €
380,00 €
Please note:
The category A rooms are all located in the hotel. Room types of category B are our standard rooms. These are equipped with shower, toilet and partly with satellite TV and are - depending on availability - either in the hotel or in our guest house. The guest house is located about 300 meters from the hotel and can be reached by foot in a few minutes.
If there are no available rooms displayed online, please call our reception. Due to travel cancellations or optional bookings there are always free capacities.
All statements without guarantee. Price changes reserved!
For 4 nights we give you € 5.00 discount per night and room!
Our payment and cancellation policy:
The rooms must be paid on arrival (departure). We accept Eurocash (bank card with PIN), VisaCard, Euro- / MasterCard.
If the guest withdraws from the reservation or does not make use of the services booked, the tourist accommodation has a right to full compensation according to the law, minus what is saved as a result of the non-use of the service. We recommend a travel cancellation insurance.
We charge the following cancellation fees:
From 3 months before arrival: 20% of the travel price;
from 3 weeks before arrival: 50% of the travel price;
from 3 days before arrival: 90% of the tour price.
Our payment and cancellation conditions are part of every accommodation contract concluded with us.